Launched on Arianespace's Vega, the nanosat nicknamed "Bravo" joins Aurora Insight's "Charlie" satellite to collect data about wireless networks.
NanoAvionics, a leading smallsat bus manufacturer and mission integrator, has successfully established communications with "Bravo," the second nanosatellite the company built and launched for Aurora Insight, a U.S. business analytics company for the wireless industry.
"Bravo" was sent into low Earth orbit (LEO) on 28 April onboard an Arianespace Vega rocket by Italian rocket maker Avio. It followed the launch of its twin satellite "Charlie" earlier this year on SpaceX's Transporter-1 rideshare mission, and the demo-satellite "Alpha" launched in 2018. Flying at a height of 500-600 miles above Earth, scanning the radio frequency (RF) environment, these satellites form a critical part of Aurora's technology, which maps network activity around the world. The company's technology also includes RF sensors on vehicles, aircraft, buildings and other objects to measure spectrum and wireless networks, including 5G deployments.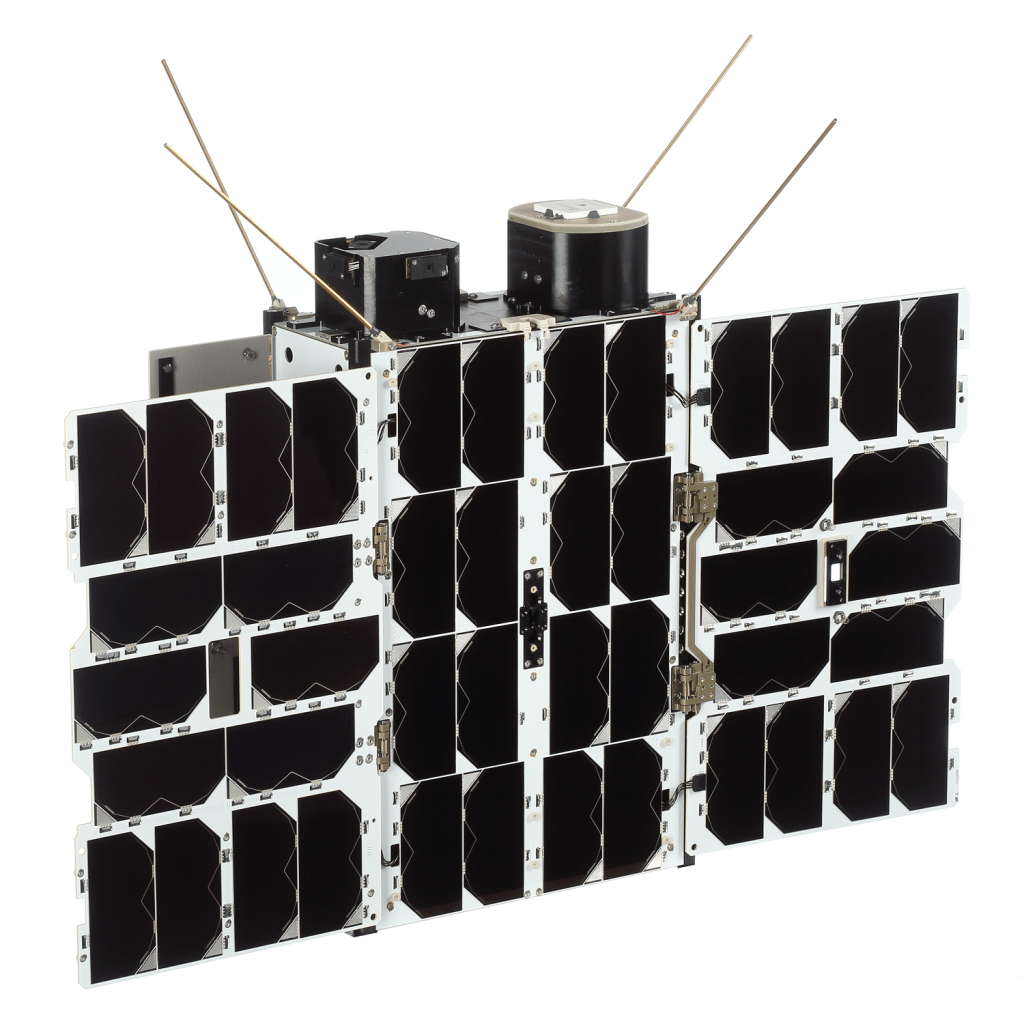 NanoAvionics, which recently announced its business expansion into the microsat market, built the buses, integrated the sensor payloads and provided launch and operation services for Aurora Insight, headquartered in Denver, Colorado. Both 6U nanosatellites are based on NanoAvionics' flight-proven M6P bus. To provide the required capabilities for Aurora's radio frequency spectrum mission, they include a higher performance configuration to provide more power through deployable panels and the most precise method for pointing and navigation in nanosats by an added star tracker subsystem.
"While we had many launches, the excitement that comes with each successful mission – like the twin satellites for Aurora Insight – never ceases," said Vytenis J. Buzas, CEO of NanoAvionics. "The advantage that attracts our customers is the combination of our standardized buses, already lowering cost, with easy and thus cost-effective custom modification. Due to our experience and services, they can outsource the whole end-to-end satellite infrastructure and operations to us and focus entirely on their data and business."
Using machine learning algorithms, Aurora creates accurate information on the availability of radio frequency spectrum and wireless infrastructure, measuring 5G, LTE, IoT, 3G/2G, Wi-Fi and TV signals. This information enables mobile network operators, mobile service operators, tower companies, and RF spectrum users to innovate and invest in wireless networks, resulting in stronger connections for communities and smarter industries.
Jennifer Alvarez, CEO of Aurora Insight said: "Our newest satellites will capture unprecedented data on wireless networks, including 5G deployments. With this new layer of global spectrum data, Aurora Insight is well-equipped to provide the wireless industry with actionable insights for investment decisions and long-term growth."
About NanoAvionics:
NanoAvionics is a smallsat bus manufacturer and mission integrator currently based in five locations across the USA, UK and Lithuania. The company's efforts are focused on enabling critical satellite functions and optimizing their hardware, launch and satellite operation costs by providing end-to-end small satellite solutions – ranging from single missions to constellations. Its core engineering team has implemented over 85 successful satellite missions and commercial projects during the past several years. With modularity as the fundamental principle of NanoAvionics systems' architecture, NanoAvionics provides economic viability to a wide range of small satellite constellation-based missions, businesses, and organizations worldwide.
https://www.nanoavionics.com/ | Twitter: https://twitter.com/NanoAvionics |LinkedIn https://www.linkedin.com/NanoAvionics
About Aurora Insight:
Aurora Insight is a business analytics company that provides the wireless industry with most accurate and actionable information available on spectrum and wireless networks. Harnessing the power of technical expertise and innovation, Aurora Insight's AI-driven solutions enable organizations to meet the current and future challenges of global connectivity. Headquartered in Denver, CO and funded by the country's top innovation investors, Aurora Insight is pushing boundaries to help advance the frontier of global connectivity. The team is composed of data scientists, engineers, and industry veterans, who leverage a deep expertise and understanding of the challenges that face the communications industry.

https://aurorainsight.com/ | Twitter: https://twitter.com/AuroraInsight |Linkedin: https://www.linkedin.com/company/aurorainsight