Company expects to add more than 100 new employees to its global staff of 250 this year
Small satellite mission integrator and bus manufacturer Kongsberg NanoAvionics (NanoAvionics) has doubled its satellite production capability by officially opening their manufacturing, assembly, integration, and testing (MAIT) facility in Vilnius, Lithuania.
After a gradual occupancy the facility is now fully operational and an expansion to the company's existing facilities in Lithuania (HQ), the UK and the USA. In addition to the production scale-up, the facility provides additional workspace and supports NanoAvionics's aim of growing its global number of 250 employees and hiring more than 100 people across all of its offices this year alone.
The expansion of its production capabilities enables NanoAvionics to meet the demands for satellite constellations and larger satellites by commercial, civil, and governmental organisations. Puting all the required production, testing and mission operations infrastructure under one roof allows the company to further streamline its processes. In addition to manufacturing its 6U, 12U, 16U nanosatellite buses and its ESPA-class microsatellite bus range of up to 220kg in weight, it is also the company's prime location for developing new products. Other business divisions such as administration, business development and operations remain located at the company's headquarters in the building next door.
Vytenis J. Buzas, founder and CEO of NanoAvionics said: "Our investment decisions to scale up the business, such as this facility is a result of the continued company growth and customer demand over the last years. It is in line with our goal to become the prime supplier for small satellite constellations. Our philosophy is to grow alongside the space market's maturity and with our customers, and enter new phases in their constellation development by having plans in place that allow us to increase our capacity.
"The expansion puts the NanoAvionics into a position to develop new and further high-quality and cost-efficient propositions across the entire value chain for smallsat constellations. Following this trajectory, the site gives us the potential to expand it to 2,000 square metres."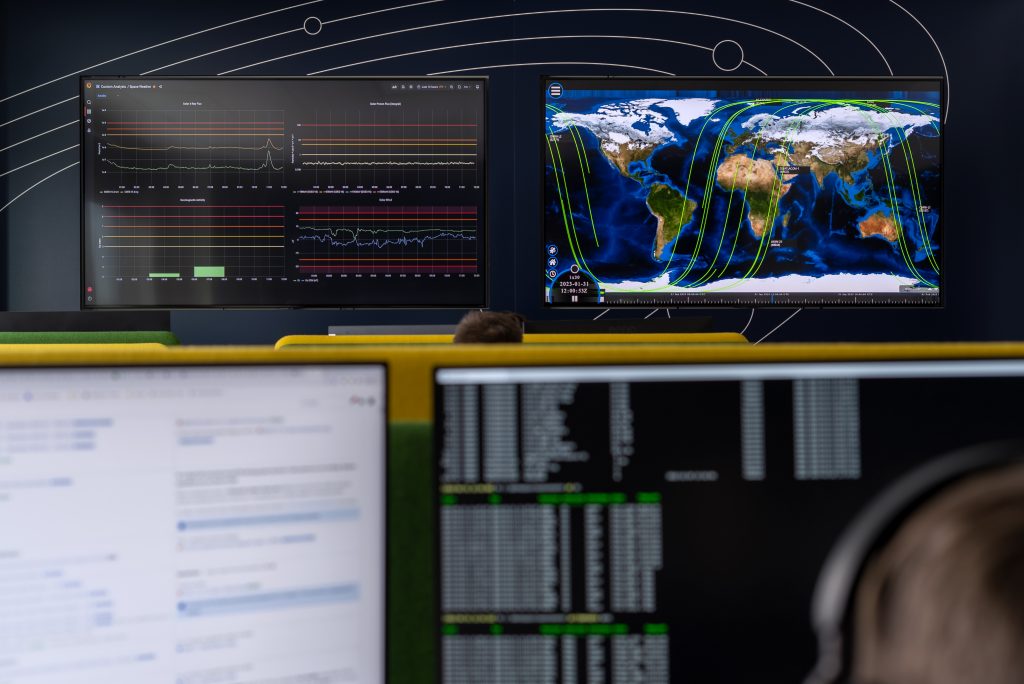 Erected next door to its headquarters and covering 1,230 square metres, the MAIT facility, includes mechanical laboratories, thermal vacuum chambers, thermal bake-out chambers to software development and vibration test equipment. The building also houses NanoAvionics's constellation operations centre from which it controls and manages all satellite operations on behalf of its customers.
"The facility was built on the knowledge and experience gained through manufacturing nearly 2,000 subsystems, including payload controllers, flight computers, electrical power systems (EPS), reaction wheels, battery packs and other critical spacecraft components for more than 120 satellite missions globally. Situated in a district famous for its cluster of technological companies and science institutions, the location is also ideal to attract great talent," Buzas said.
About Kongsberg NanoAvionics (NanoAvionics):
Kongsberg NanoAvionics is a smallsat bus manufacturer and mission integrator currently based in four locations across the USA, UK and Lithuania. The company's efforts are focused on enabling critical satellite functions and optimizing their hardware, launch and satellite operation costs by providing end-to-end small satellite solutions – ranging from single missions to constellations. Its core engineering team has implemented over 120 successful satellite missions and commercial projects during the past several years. With modularity as the fundamental principle of NanoAvionics system architecture, the company provides economic viability to a wide range of small satellite constellation-based missions, businesses and organisations worldwide.
https://www.nanoavionics.com | Twitter: https://twitter.com/NanoAvionics | LinkedIn: https://www.linkedin.com/company/nanoavionika-uab/